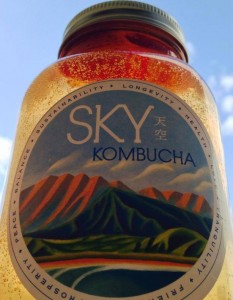 KOMBUCHA.  An ancient recipe from China that ferments tea into a living effervescent concoction of probiotics, digestive enzymes, amino acids, and vitamins. Include all the antioxidants and nutrients from green tea, and you have a beverage worthy of its ancient Chinese name: LONGEVITY TEA. 
Learn to brew kombucha at home from the SKY Brewers!  SCOBY Workshop on November 1st in Waimanalo, Hawaii.  Get tickets here.
We aim to provide high-quality, locally-sourced, lovingly-crafted, and unique Kombucha "on tap" and in reusable bottles to the health conscious, the nature-seekers, and the good-bacteria lovers.  Well, really just to anyone willing to try it and love it!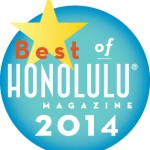 Honolulu Magazine: Editorial Pick for BEST KOMBUCHA!!!
Read Honolulu Magazine's review of SKY Kombucha.
Mahalo, Lynn Soehner, for her beautiful artwork on our logo. To find her paintings and prints, visit www.lynnsoehner.com or contact her at tigereyecan@gmail.com.
We would also like to thank our wonderful and talented Graphic Designer: Kara Homan.